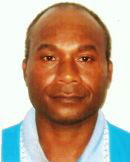 Hi, my name is
Peter Baibai
and I've been a hobbyist Freelance Writer and Poet for the past fourteen years; a father of a Christian family of six children and wife Alice. I live and work in PNG's biggest Mining Company, the
OTML
as a Certified Turner and MFM.
This is my first book published in 2015 by the iUniverse Publishing Company in Bloomington, Indiana, USA. It is live and available online in
iUniverse.com
,
Amazon.com
,
Barnes & Noble
and other Bookstores around the world.
My second book will be soon out in a few months time.
Click to buy this book
here
.